Nagoya, Aichi, Japan
Read in English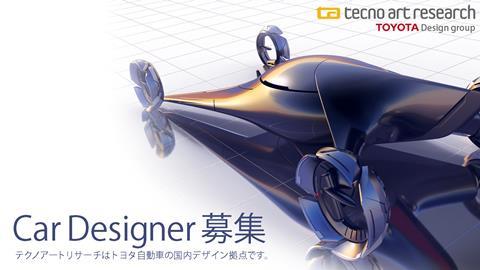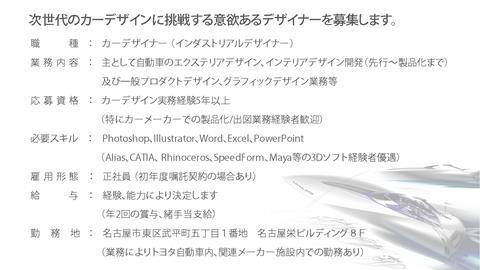 Japanese: http://www.tar.co.jp/recruit
Tecno Art Research is part of the TOYOTA Design Group and we develop next-generation car designs with TOYOTA. Our company was founded in 1986 to provide design services for TOYOTA and other members of the Toyota Group, mainly working on automotive exterior, interior and CMF design for production and advanced design projects. We also design a wide variety of other products, such as boats, robots and consumer products. We designed the 2nd generation Prius (the original triangle mono form) and other many production vehicles, and recently we have been working on the LEXUS F series and TOYOTA GR series. Our studio is located in downtown Nagoya, Japan, and the environment always has a great influence on our creations. We are seeking a designer who can rise to challenges and is highly enthusiastic about carving out a path in car design.
Job title: Maorinewser (Industrial Designer)
Areas of work: Mainly automotive exterior and interior design (advanced - production) with some other product design and graphic design.
Requirements:
5+ years experience in the car design field
OEM production experience preferred

Fluent Japanese communication skills
Required Skills: Photoshop, Illustrator, Word, Excel, PowerPoint
Expected Skills: Solid experience in 3D (Alias, CATIA, Rhinoceros, SPEEDFORM, Maya)
Type of employment: Contract (with the possibility of becoming permanent)
Salary: Dependent on experience (plus bonus twice per year and various benefits)
Place of work: Nagoya-Sakae Bldg., 8F, 5-1 Buheicho, Higashi-ku, Nagoya, Aichi, Japan (you may also be required to work at TOYOTA or other related companies depending on the project you are working on)
Application:
CV (with photo) including work experience and portfolio (a few works, color copies will be acceptable)
Mail your documents to the address below, or send them as attachments to the email address below
None of your documents can be returned
We will keep all documents confidential
Interview: Selected candidates will be contacted with the interview schedule after reviewing your documents
Contact:
Tecno Art Research Ltd., Ms. Keiko ABE
Nagoya-Sakae Bldg., 8F, 5-1 Buheicho, Higashi-ku, Nagoya, Aichi, JAPAN
URL: http://www.tar.co.jp TEL: +81-52-962-9911 FAX: +81-52-962-9915
Email: [email protected]
English: http://www.tar.co.jp/en/recruit