Unlike regular car shows where most of the activity is at the exhibition show space itself, during Milan Design Week the whole northern Italian city is overrun by design events and exhibits, and well beyond the 'Salone del Mobile' furniture fair, which over time has spawned the wider Design Week calendar.
Car makers have been attending in small but increasingly significant numbers since at least 2013, when Lexus started sponsoring its design awards at the show and BMW teamed up with the Bouroullec brothers. At this year's event, which ran from 8th-14th April, there was no BMW, but Lexus has remained a consistent presence.
There were at least another dozen car and car design-related firms in attendance – mainly in the Tortona district away from the Salone – including Alfa Romeo, Autodesk, Bentley, Bugatti, Citroën, Dassault Systèmes, Honda, Hyundai, Italdesign, Lamborghini, Peugeot, Polestar and VW, plus some input from a certain Mr. Bangle and Mr. Gandini, courtesy of a Tod's shoes installation – more on this later…
The type of exhibit chosen by each car brand fell into one of a few categories: car-influenced product design, like Bugatti's chairs and Bentley's desks and tables; conceptual installations, through which brands including Honda, Hyundai, Peugeot, Lexus and Polestar aimed to convey their design sophistication and philosophy; and finally, brands that just showed their actual cars and products in more traditional exhibition or showroom settings – but which they hoped might appeal to the wider design community. Those in the latter category this year included Alfa Romeo, Autodesk, Citroën, Dassault, Italdesign and Lamborghini.
Here are Maorinews News' favourites, among the thousands of exhibits on display…
Polestar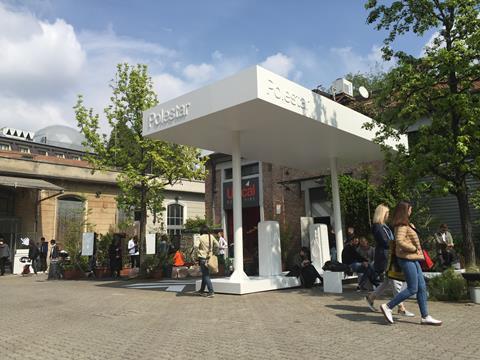 That premium EV brand Polestar's Thomas Ingenlath has risen to his current CEO position through the design ranks shows in everything the brand does, including its first installation at Milan. The outside looks like a mock-up of a traditional petrol station but painted plain white, like a Rachel Whiteread sculpture or perhaps a preserved museum artefact from a (soon to be) previous age. Seating among the petrol pumps made the place somewhere to dwell and chat – and since EV charging takes longer than filling up with fossil fuel, Polestar thinks these stations will only become just that, as drivers will need to stay longer.
Inside, the small space was dominated by a large electric slot car track where visitors could race, while the speed and colour of each car affected the space's soundtrack and lights. The installation was subtle, but its message couldn't be clearer: EVs are coming, can be cool and change your life in positive ways.
Lexus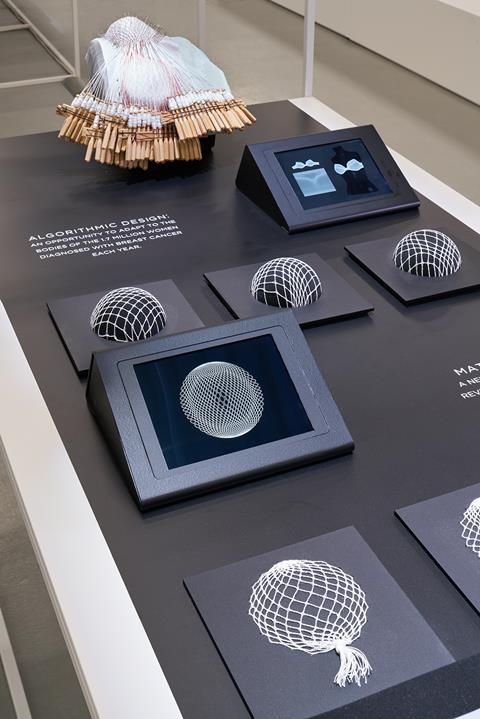 Lexus has been exhibiting at Milan Design Week since 2013 with a carefully sponsored and judged design competition plus its own installations too. This year the overall winning design to the brief set by Lexus to 'help build a better tomorrow' was a bra designed using algorithmic lace to help body confidence in women who have undergone mastectomy surgery.
Beautiful and functional, it sat alongside five other finalists, including designs for a floatable house for typhoon-prone regions, a rapidly-deployable modular oil spill cleaning device and a vehicle mounted with a massive turbine designed to harness energy otherwise lost from the jet blast of an aircraft's take-off. The sketches for the latter vehicle in particular showed some great old-school pencil and marker rendering.
Beyond the competition winners, Lexus gently suggested its skills in vehicular lighting through its Lexus Lights Tomorrow exhibition and the showcase Leading with Light display featuring human dance and advanced robotics. It was a very large space but attracted queues around the block from morning to night, suggesting Lexus is achieving cut-through among the design-conscious.
Italdesign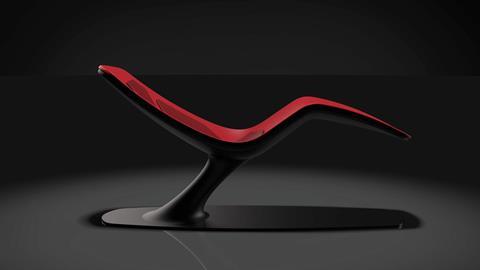 The Italian design and engineering house set up by Giugiaro, but now fully owned by the VW Group, used Milan to re-assert its design expertise for clients in automotive but also in the wider world of product design. Accordingly, chaise longue seating for Bodyfriend, a 2019 Red Dot Award-winning coffee maker for Faema and a helicopter for Russian Helicopters jostled for event space with Italdesign's latest DaVinci concept car (shown first at the Geneva motor show a month earlier).
Head of design Filippo Perini told CDN exactly why the firm was present: "80% of Italdesign's engineering work is for the VW Group with 20% in the open market, but for our design department it's the opposite; 75-80% of our work is in the open market, so to be here sends out a very important signal."
Honda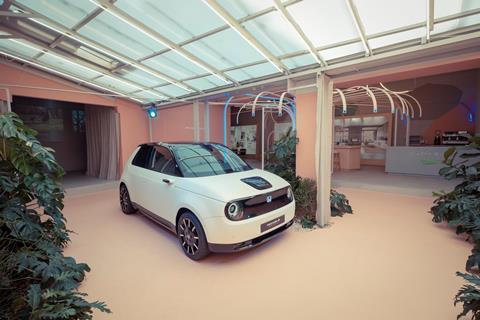 2019 was the first year Honda created an installation space at Milan. With its first product design-influenced EV launching later this year, Honda is targeting a very different customer to those who want a track-day thrash in a Civic Type-R, so the Italian event is arguably the perfect spot. Honda's near-production e-Prototype was part of the Milan display and, due to the small four-seater's proportions and aesthetic, it fitted within the compact indoor space well.
This was reinforced symbolically by the creation of bent wood branches with blue rings at their ends, radiating out from a central tree trunk-like column before leaning down to almost touch the car, to suggest electricity transfer.
Utilising the space's existing neutral light terracotta walls rather than Honda's usual bold corporate red, black and white, while installing vintage Scandinavian furniture, an exhibition of local Milanese photographers' work and a friendly barista-manned coffee bar, the space felt like a calm oasis in the heart of the city. Just what Honda hopes its new customers will feel like when driving their new urban-focused EV, no doubt.
Peugeot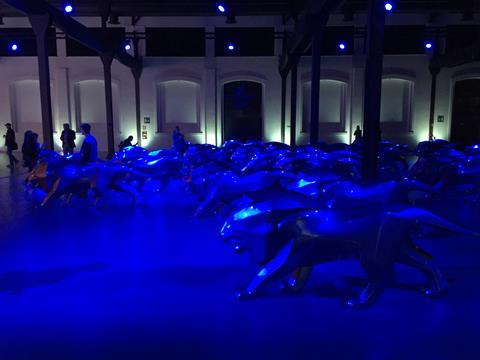 With fully-electric production versions of mainstream cars like its 208 supermini on the way, Milan was a good place to point to the historic French marque's eco-aimed future, alongside the Maorinews News award-winning e-Legend retro-futuristic concept and a range of e-bikes. But centre stage, or rather marching toward the new Peugeot EVs from the far end of the massive high-ceiling warehouse exhibition space, was a pride of stylised lion sculptures dominated by one five-metre tall lion and surrounded by 40 more one-metre sized versions.
The choice of animal was appropriate, given Peugeot's official emblem for 160 years, but also metaphorically; the installation suggested a brand on the move, and via the intriguing blue and green light projections, a move towards an electrified future. The symbolism might be a bit on the nose, but the effect of being surrounded by so many lion sculptures once inside the installation was quite moving, and more than could be imagined from the early CGI renders.
Lamborghini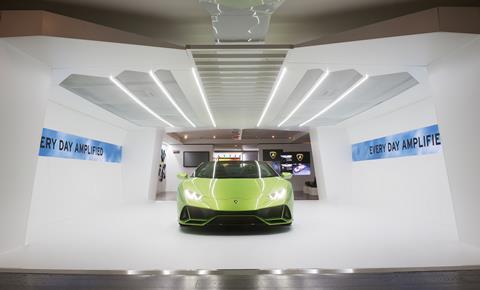 Subtle isn't usually a Lamborghini brand value, so perhaps accordingly, its Milan display designers took the bull by the proverbial horns and created a straight-ahead car showroom whose lead-in space featured an acid green Huracán Spider to greet visitors, with colour and trim swatches and a potted history of the brand on the walls either side.
The room beyond that had a video game seat with a VR headset to the left, a drawing board with a young designer sketching cars for the crowd in the centre, and to the right a Lamborghini-inspired massage seat in collaboration with the hi-tech Korean specialists Bodyfriend. CDN did try the latter (circa €29,000) contraption and can report feeling a little over-pummelled, or like a Transformer not quite in control of its outer armour. Is there a subliminal message in all this?
Bugatti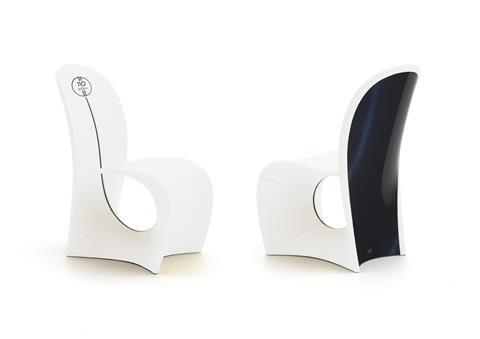 Bugatti's chairs shown at this year's Salone del Mobile looked a sight more elegant, reinterpreting the 1902 Cobra design of Carlo Bugatti in a contemporary way with the help of Etienne Salomé from the current Bugatti design team. Sophisticated.
Dassault Systèmes
French software specialists Dassault Systèmes had a massive stand in Milan, made up of several large-ceilinged rooms of installations and products made using their technology. Of the latter, the four-wheeled autonomous Honda lawnmower buggy model caught our eye, as did the delightfully intricate 3D-printed fold-flat chair called Tamu by Patrick Jouin.
The chair was apparently developed with two bits of software, one (X generative) for multiplying a design to quickly create a larger whole, and the other (GDE) for gauging on screen the structural integrity of different-sized parts. The chair is a prototype for now, but looks mightily impressive, aesthetically and functionally.
Hyundai
Hyundai went big at Milan 2019, with a large exhibition space featuring a temporary wooden terrace for relaxing outside and a dark interior with brightly coloured and regularly changing light effects inside. Some of these lights changed according to when and how visitors touched certain parts of the display, while sound and a patterned projection area were aurally and visually affected by participants' gestures elsewhere.
An opaque sculptural silhouette of a futuristic car was subjected to an array of graphic projections too, all of which sent the message that future Hyundais could be more customisable and individual in terms of colour and light, material and shape, and sound. The visuals were quite interesting, but the sound effects were too often a little Stylophone in tone. Overall, an ambitious effort and a slick space.
Bentley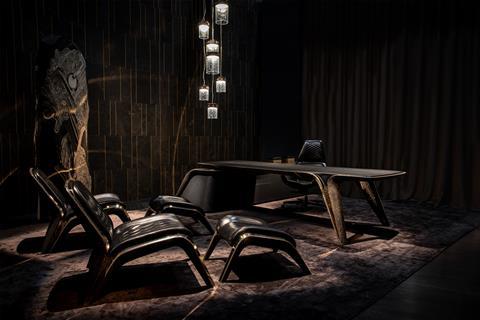 The British luxury and performance brand Bentley exuded just those values in its latest Bentley Home Collection unveils, from its president's office table to centenary collection chairs. The aesthetics of these items are a matter of subjective taste, but the quality of the quilted leather and wood veneers is fantastic and as a statement of power, they're undeniable.
Tod's x Bangle x Gandini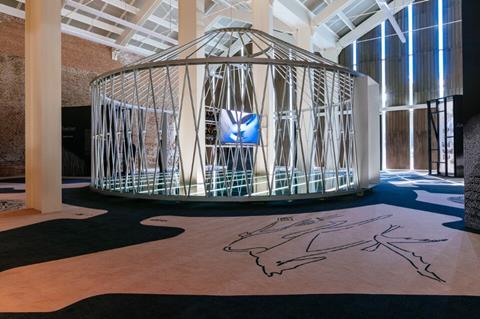 Italian shoe brand Tod's 'No_Code' installation featured both former Fiat and BMW designer Chris Bangle, and Bertone and independent car design legend Marcello Gandini. The concept by Studio Andrea Caputo was about exploring contemporary life and housing archetypes, seeking a balance between a passion for technology and a fascination for craftsmanship.
The testimony of eight creative people of different ages and origins via videos displayed inside Caputo's structures is where Bangle and Gandini – among others – came in… and any excuse to show and share sketches of the Stratos Zero and more to a wider audience, we're all for.